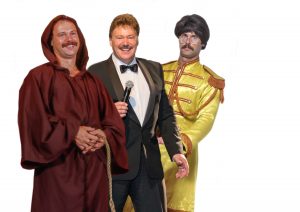 16/2/17
Vale Greg Doolan –
Wak's founding member and much loved frontman of our group.
It's with huge sadness that we announce the passing of our dear friend Greg Doolan.
A family man, a friend and an inspiration to so many, it's hard to believe that he has left us so soon after being diagnosed with cancer last month.
Greg was surrounded by his family as he passed away peacefully.
Greg adored his family and spoke of each and every one of them with such pride.
He recently spoke of the enjoyment he got from working with and watching other local entertainers and the absolute thrill that he got when working on any stage to his beloved fans.
Our love and prayers go out to Greg's family and our Wak friends.
Rob, Tony, Peter and Paul.