— Wickety Wak ®  is a registered trademark of the RJP group —
For trademark enquiries please contact us at info@wicketywak.com.au
Click on certification below for a larger view –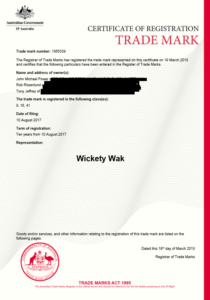 Trademark classes covered under the act are-
Class 9:
Interactive entertainment software for use with computers; Records bearing entertainment material
Class 16:

Entertainment guides (printed matter)
Class 41:

Arranging of entertainment; Booking of entertainment; Club entertainment services; Entertainment; Fan club services (entertainment); Live entertainment; Live entertainment production services; Management of entertainment events; Management of entertainment services; Musical entertainment services; Production of entertainment videos; Production of live entertainment; Provision of club entertainment services; Radio entertainment; Television entertainment; Theatre restaurants (Entertainment)
Please note-
Entities that wish to use any material from this website or from the library of work attained by Wickety Wak ® from their 40 year period 1975 – 2015 must contact us in writing for such permission at info@wicketywak.com.au. Trademark is governed by the legal standing rights and laws under the trademark act (1995) which protects our body of work.
Entire website and Wickety Wak's® body of work falls under the copyright act . (c) 2021 all rights reserved
This website is owned and maintained by John Power – our archivist and close  friend .