Today's Wak video – LOVE YOU BRISBANE (1985) << DIGITAL STEREO>>
Contact us – info@wicketywak.com.au
P/O BOX 607 REDBANK PLAINS QLD 4301
TRADEMARK NOTICE AT THE BOTTOM OF THIS PAGE 
———————————————————————————————————

FIND US ON FACEBOOK  
———————————————————————————————————
The Wak Boys
Rob and Tonys dates for August
FRI  3rd – Club Pine Rivers 11.30am – 2.30pm (Duo)
FRI 24th – Club Pine Rivers  6pm – 10pm (Duo)
———————————————————————————————————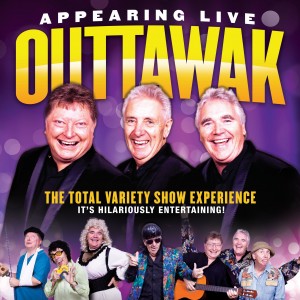 OUTTAWAK SHOWS – AUGUST 2018
 SAT 25TH- PRIVATE FUNCTION
TUES 28TH – CITY HALL 12PM – 1PM  show  
———————————————————————————————————
FLASHBACK TO WAKS WORKS (1983) – BTQ Channel 7 Studios Brisbane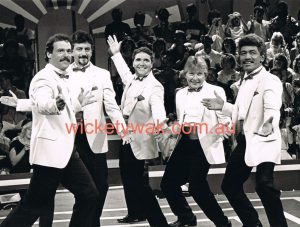 ———————————————————————————————————
  PAST SHOWS BELOW

Thank you!!!!  We had a ball!!!
 To all the thousands of fans that came out for the 16 shows…. thank you so much!!!
To have the opportunity to do something that you love once again 40 years later is indeed wonderful and we loved sharing our memories with you and hope it took you all back to those great times.
The final two shows at Twin Towns were a fitting finale in a venue we consider "home" and where over 135,000 people have come to our shows over our 40  years.
Thank you once again !!
Greg, Robbie, Tony and Paul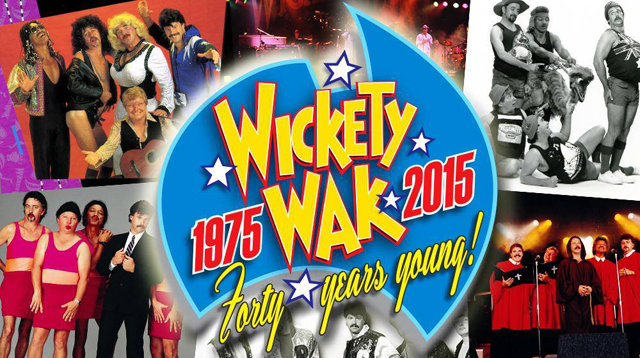 ——————————————————————————————————–
— Wickety Wak ®  is a registered trademark of the RJP group —
For trademark enquiries please contact us at info@wicketywak.com.au
Click on certification below for a larger view –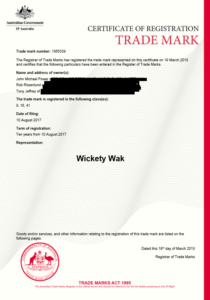 Trademark classes covered under the act are-
Class 9:
Interactive entertainment software for use with computers; Records bearing entertainment material
Class 16:

Entertainment guides (printed matter)
Class 41:

Arranging of entertainment; Booking of entertainment; Club entertainment services; Entertainment; Fan club services (entertainment); Live entertainment; Live entertainment production services; Management of entertainment events; Management of entertainment services; Musical entertainment services; Production of entertainment videos; Production of live entertainment; Provision of club entertainment services; Radio entertainment; Television entertainment; Theatre restaurants (Entertainment)
Please note-
Entities that wish to use any material from this website or from the library of work attained by Wickety Wak ® from their 40 year period 1975 – 2015 must contact us in writing for such permission at info@wicketywak.com.au. Trademark is governed by the legal standing rights and laws under the trademark act (1995) which protects our body of work .
Entire website and Wickety Wak's® body of work falls under the copyright act .
(c) 2018 all rights reserved .